I'm always amazed at how much fun diving is. :-) Every dive is different, and every dive presents new surprises and brings a wealth of new memories. My wife and I were having a blast, and the big dive boats at Dive House only had a half dozen people on board for the past few days. The day before we had been over to the mainland to dive the cenote Dos Ojos, (wow) and hadn't made arrangements for today. No problem, I thought, there had been lots of room, and they hadn't come close to filling any of their four big boats. Walking up to the dive shop, it seemed like there were an awful lot of people hanging around, and you guessed it... no room on any of the morning boats. At first my heart sank. Everything had been going so perfectly, and then boom, cut out of the fun because I hadn't planned ahead. :-( Oh well, I guess we'll try one of the shore dives I had been thinking of.



Exactly one half mile north of the Fiesta-Americana hotel is a little dumpy looking beach club called Dzul-Ha. The first time we drove past, it looked derelict, but later they actually had customers. One the south side of their little boat pier, there is a concrete boat launch ramp, which makes for a perfect water entry. We threw our gear in a taxi, and had him drop us off, figuring we could swim/drift back to the hotel dive shop pier, and the half mile would make for just about the right amount of dive time.



Just as we were getting into the water, a young woman on the pier, who was leading a snorkel tour, graciously told us to look for the school of Jacks that were usually there. She said they almost always see thousands of them, right there in ten feet of water. I think one of the coolest things you can do diving is swim in the middle of thousands of fish, and what I thought might be a boring shore dive was getting interesting. :-) Three minutes later, there they were! It was incredible!

Here where more fish than we had encountered on any of our previous dives to all the famous Cozumel reefs! Who needs 60' of water? As you can see, swimming with these fish was a real treat. :-)) Right above this big school of fish was a nice fat Barracuda. Now this guy knows how to take it easy! Talk about being at the top of your food chain! :-)



It turns out they were bigeye scad, not jacks, as far as I could tell from my Reef Fish book.



Then came treat number two. Cushion seastars, everywhere! On our last boat dive, we had seen one or two, but with the fast current, and having to stay with the DM and group, we didn't get to really check them out. That's one thing I don't like about Coz, that the current usually keeps you from getting up close and personal with some of the stuff you encounter.



On shore dives, there's almost no current, and my wife and I can stay and play as long as we want in any one spot. :-) We saw dozens of these beautiful star fish, in different colorations and sizes.



Note to Cozumel Marine Park Authorities: This picture (below) was not taken in Cozumel. My wife found this cushion seastar on a dive in the Bahamas, and I thought that picture would fit in nicely here.



Then we found another scorpion fish, and watched it swim around as we took some pictures. I'm always amazed at how fantastic the camouflage is for these fish. If you look away to get the attention of your dive buddy, you have to look carefully again to relocate them! (The fish, not your buddy.) I have to admit, though, sometimes my wife does disappear when she gets sick and tired of waiting for me take another picture. :-)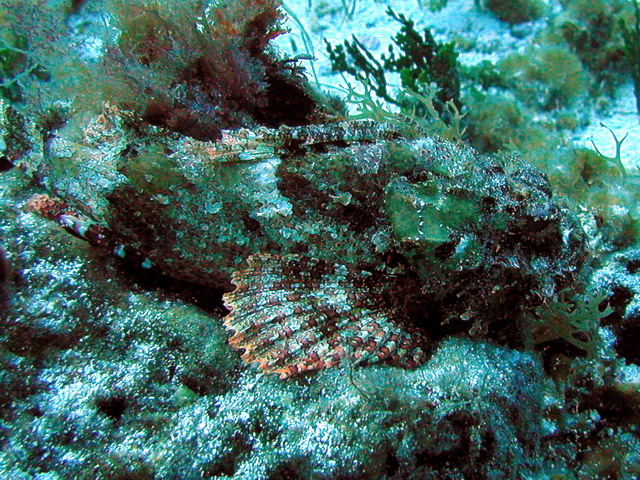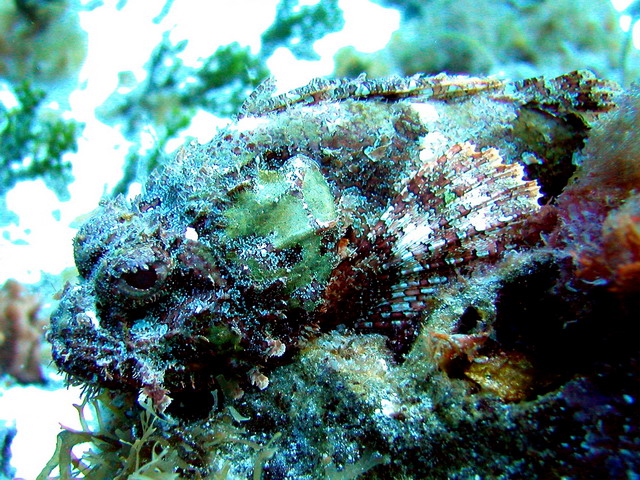 And then a beautiful little sharptail eel came swimming along. I assume its almost transparent body is due to the fact that it must be a juvenile.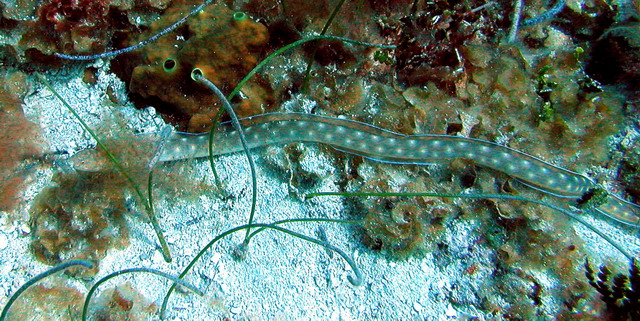 While I'm busy taking pictures, suddenly my wife taps me on the arm, and points in a new direction. There is a great big porcupine puffer comes swimming along. It must have been four feet long! No, just kidding. It's easy to get carried away writing these reports. :-)



Personally, I like to call these 'school bus fish' because when you look at them head on, all I can think is that they look like the front of a school bus!



Finally, toward the end of the dive, we look up toward the surface, and there is a small school of flat needlefish! What a fabulous dive this has been! Again, we saw some very different marine life than we had seen on any of our boat dives, and now all I needed to do was surface and see if we were anywhere near our hoped for exit point. Watching and listening for boat traffic, I surfaced cautiously, and happily found that we were100 yards past the Dive House pier, with an easy exit and an easy hike back to the dive shop.

Our maximum depth was 26 feet, and I was reminded once again, shallow dives can be great dives, and every dive has its own unique blend of surprises and memories!



---
Return to: The Scuba Adventures of John and Joan Home Page.
Below are the comments that were originally posted by users of the Trip Report section of the Rodale's Scuba Diving web site. (www.ScubaDiving.com) I've copied them from that section of the board, which is no longer functioning in the same format.