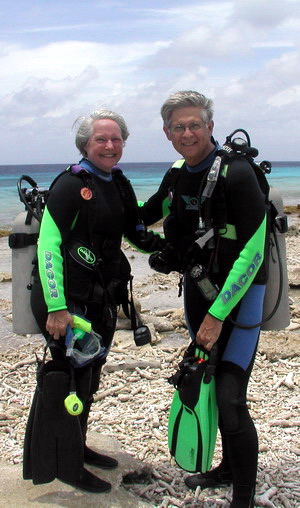 Bonaire - March 2001
This island of diving paradise lived up to it's name!

Cozumel Shore Dives - Part I - March 2002
All the diving in Coz is great, but we did three shore dives that were as good, or better, than the boat dives!
Cozumel Shore Dives - Part II
Another wonderful, fun, shallow dive, with lots of surprises! I love how diving so often delivers more than I'm expecting.
Cozumel Shore Dives - Part III
Three big surprises on shore dive #3. Two good, one bad.
Cozumel : Devil's Throat
The name says it all! A "must read!"
Florida Keys Dive Trip - March 2003
Don't want to fly to the Caribbean? Why bother, the Keys have it all!
The Channel Islands of California - July 2003
Cool water, HOT dives. When you giant stride off a Channel Island dive boat, it's a looong way to the water!


Crystal River, Florida - March 2005
Manatees! The Gentle Giants. You gotta visit these creatures!


Freeport, Bahamas - March 2005
Nice dives and hey, Sharks!


Grand Cayman - July 2006
Stingray City Chaos and my Lost Gear Adventure
Mayan Riviera - July 2007
A friends free condo for the week sent us to Puerto Morelos. What was the diving like? This pictorial tells all!
Zanzabar, Africa - October 2008
After a week doing missions work in Malawi, we spent a few days diving in Zanzabar. Wow, it was awesome!